Brushing up your knowledge
For our products, we carefully select from about 300 different materials to ensure the best quality for each intended use.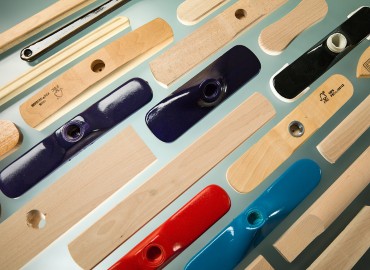 THE BRUSH BLOCK
The blocks of our brushes are made from different types of hard wood and plastics. Depending on the intended use of the brushes, the blocks are further processed and are either coated (one up to three times), untreated, or oiled.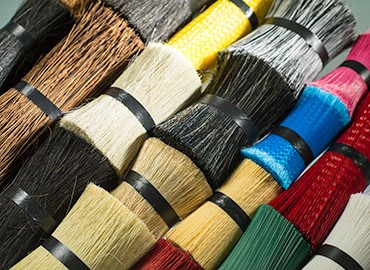 FILLING MATERIALS
Filling material refers to the fibers that the bristles of brushes and brooms are made of. Depending on the intended use of the product, these materials include animal hair, vegetable fiber, synthetic fiber, or blends of these. In an elaborate procedure, all natural materials are cleaned, boiled and combed several times; this procedure is called "Zurichtung" or finishing.

Animal hairs include the hair of badgers, horses, pigs and goats.

Vegetable fibers include fibers from the following plants: arenga, bassine, palmyra, coconut, piassava, rice root, and sisal.

Synthetic fibers include polyamide (nylon), polypropylene, and polyester (PBT, PET).
Arenga
This robust fiber is harvested from the Arenga Pinnata Palm, or sugar palm. It is heat and water resistant, dust binding, resilient, and its fibers have a medium coarse to fine texture.

It is best used for dry and moist floors, and is predominantly used in outdoor areas. It removes dirt and oil residues very well.
Bassine
Bassine is harvested from the Palmyra palm. It has a reddish brown color and has a medium coarse texture. It is alkali and acid resistant, as well as heat resistant, dust binding, hard-wearing, and does not crush easily.

It is best used for dry and moist floors, and is predominantly used in outdoor areas.
ELASTON / POLYESTER (PET)
Polyester has good heat and moisture resistance, as well as good mechanical properties. It has excellent sweeping qualities and is resistant to mild acid, petrol, alcohol, and organic solvents. It retains its shape and is available in different calibers, either flat or wavy. It is made from recycled granulate; therefore, using polyester contributes to waste recycling.

It is best used for coarse and wet dirt, and is predominantly used in outdoor areas.
FINE SYNTHETIC BRISTLES
Synthetic bristles are made from soft synthetic fiber, mostly PET, and are an inexpensive alternative to horse hair. It has lesser dust binding qualities, but this can be improved through splitting or slitting the ends of the bristles.

It is best used for all smooth floors.
COCO FIBER
Coco fiber is a soft to medium coarse fiber that is harvested from the outer layer, or husk, of the fruit of the coconut tree. It is light and resistant to abrasion.

It is best used for coarse, dry and moist floors in halls, cellars and storage rooms.
TAMPICO FIBER
Tampico has a high heat resistance and is resistant to alkali and acid. It is very water absorbent and resilient, as well as hygienic and skin friendly.

It is suitable for the toughest demands in various brush products, e.g. in scrubbers, mops, scrubbing brushes, and tar brushes.
Nylon Type 6.6
Nylon type 6.6 is a high quality polyamide that is temperature resistant from -30°C to +120°C. It has good sliding properties and is resistant to fats, oils and weak alkalis. It has a low absorption level and reduces vibration. When the ends of the bristles are split, it is highly dust binding. It does not mat.

It is suitable for coarse to smooth floors and fine to medium fine sweepings; it is predominantly used in indoor areas.
PIASSAVA/BASSINE BLEND
This is a blend of coarse vegetable fibers. It is moisture and heat resistant, and is blended and made ready manually.

It is suitable for very coarse dirt and for working with asphalt and bitumen in roadworks.

POLYESTER PBT
Polyester is heat resistant in continuous operation up to 134°C. It retains 97% of its stiffness in wet states, and has a 100% resistance to organic solvents, caustic solutions, and diluted organic mineral acid.

It is suitable for HACCP hygiene products.
POLYETHYLENE (PE)
Polyethylene is especially suitable for the soft cleaning of cars. The basic raw material is polyethylene with low density. It has a high resistance to detergents. To protect the car paint, we use bristles with split ends.

It is suitable for car and portal brushes, as well as for bus scrubbers.
POLYPROPYLENE (PP)
Polypropylene is one of the most frequently used synthetic fibers in the broom and brush industry. It has a good resistance to organic solvents and fats. It is boil-proof, but is not resilient in these temperatures.

It is suitable for scrubbers, glass brushes, scrubbing brushes, dishwashing brushes, and toilet brushes.
BROOM CORN / SORGHUM
Broomcorn is a specifically cultivated straw that is harvested from the sorghum plant. It is used as animal feed or for various traditional broom corn brooms.
RICE ROOT
Rice root is harvested from the Zacaton plant in the Mexican Highlands. It is extremely tough and dries quickly; it is also brittle and heat resistant.

It is used in scrubbing brushes for wet scrubbing with heavy stains.
HORSEHAIR
Horsehair is a natural product that is taken from the tail or mane of horses. It is dun-colored or black and thin to thick. Its softness depends on the stiffness of the hair.

It is best used for smooth and dry floors, as well as for fine dust and dirt, since it binds dust and does not stir it up.
UNION MIXTURE
This is a rough and strong mixture of synthetic fibers, respectively Tampico fiber, and bassine for toughest uses. It is resistant to alkali.
GOAT HAIR
This hair is the clipped hair of goats; it is pleasantly soft, dust binding, and antistatic. It is best used for high-quality baby brushes, dust brushes, and for brushes used in various crafts, as well as in the clothing industry (mohair and cashmere).